When companies fail at or are not prepared for a catastrophe, it's often because they neglect to think that the unexpected is possible.
They often fall into one of two categories:
They assume disasters are unpredictable, so why prepare for them?
They fall into the allusion that their plans are fail proof (nobody can sink the Titanic).
Most disaster situations are simply due to a service outage or user error. But a catastrophe could wreak havoc on your business when you least expect it. Think about the thousands of companies in Houston that were shut down for weeks due to Hurricane Harvey in 2017. Nobody expected it, but it happened and many people were caught completely off guard.
Companies that take the time to be proactive are more likely to persist, despite a disaster. It requires a higher level of preparation than many businesses currently have. There are too many depending on a simple cloud backup service to save the day, but is that enough?
What is The Condition of Your Cloud Disaster Management Plan?
Current statistics show that more companies are taking inventory and calculating the risks of an attack on their IT infrastructure. However, there are still quite a few who are ill-informed and not doing enough.
Recently, a Forrester Research and Disaster Recovery report showed that up to 40% of companies currently have an official enterprise risk management program that is held accountable by a board or upper management. While the number of companies that are taking cloud disaster management seriously are improving, it's obvious that not all companies are on board.
The difficulty with cloud disaster management, as with all disaster recovery programs, is that it's never important until unexpectedly, it is. When a major disaster event occurs, it can take a company down in the blink of an eye.
Could This Happen to You?
HawkSoft, an Insurance Agency Management platform, was just hit with a ransomware attack. Their business had to shut down until they could deal with hackers. Are you ready for a ransomware attack? Does your team know what to do? More importantly, your employees should be well-trained so that they recognize suspicious emails and attachments and do not click on them to begin with.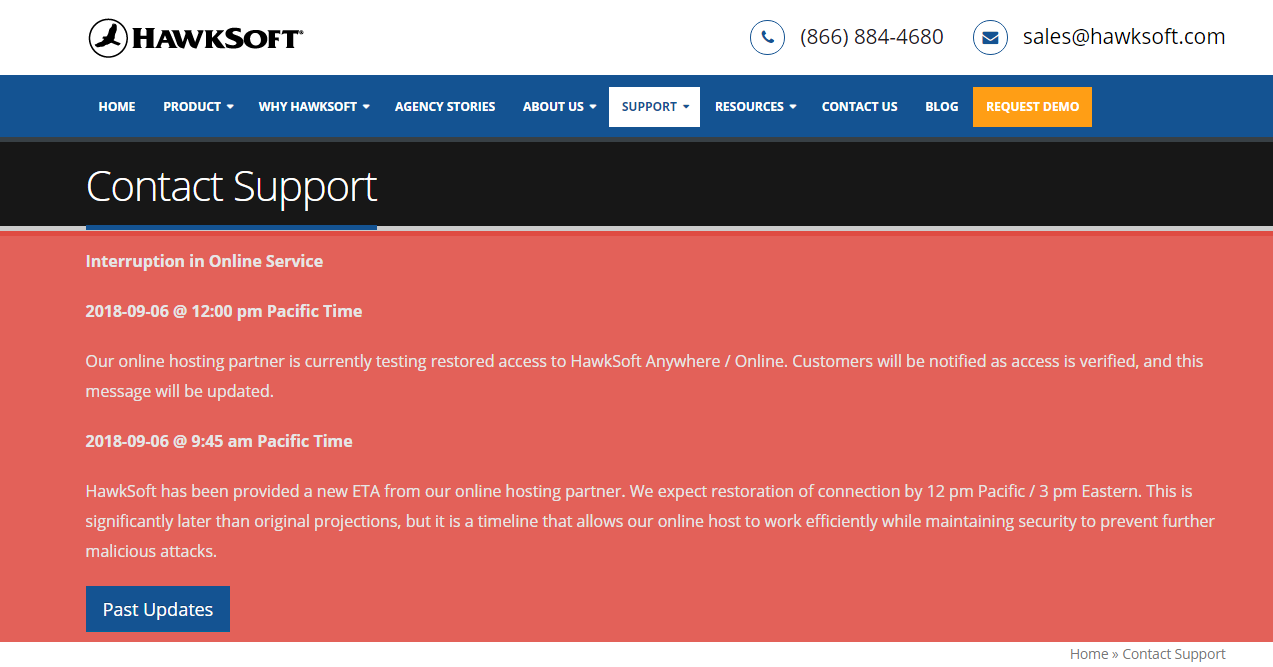 Recently, Ticketfly was the victim of a data breach. Over 26 million customers who use Ticketfly to purchase concert tickets were affected. Ticketfly's parent company, Eventbrite, revealed that customer names, addresses, emails, and phone numbers were stolen by hackers. The breach damaged the company's reputation and left millions of customers looking for a new place to buy their tickets.
The company had rave reviews from its customers. They most likely had a very sophisticated security system. So what went wrong?
When it comes to disaster recovery, it's vital to choose an IT services provider that consistently tests their disaster management procedures. They need the best security resources money can buy, but they also need a well-qualified team of pros who understands what's at stake.
Your IT services company should do more than just provide dependable hosting. They must stay on top of new hacking schemes. They should be running simulations on a regular basis that test disaster preparedness. They should be doing this internally and for their clients.
How Can You Manage Cloud Disaster Recovery Solutions?
A good disaster recovery plan includes the core IT services and infrastructure that your company depends on. These assets should be fully protected with today's most effective security solutions. You need a qualified team of people who know what to do in case there is a breach. Acting quickly always limits the damage and makes your company look better in the media. Your shareholders and investors should be fully involved.
What Does Your Company Need to Survive a Disaster?
Did you know that service outages are the most common disasters that companies encounter when it comes to IT issues? However, even though possessing a strong data center solution is essential, there are many other situations that can wreak havoc, such as earthquakes, fires, floods, and severe storms. Your team should have a thorough plan to address events like these. That means backing up your data both onsite and offsite using a reliable cloud solution.
Do You Have a Complete Disaster Management Program?
No one ever thinks about what would happen if heavy rain caused the roof of your data center to cave in. What if your offices were flooded in a big rainstorm? How long would it take to get things back up and running again? You could lose several weeks' worth of work.
Cloud disaster management isn't something you should figure out on your own. You need a partner with the information, experience, and resources to know what could happen and how to respond. Sometimes you don't get a second chance.
You need a business leader in cloud disaster recovery, with proficiency that guards every part of an IT system, from application management, to cloud hosting. All your software programs and data should be backed up regularly so that everything can be restored quickly.
Disasters Are Expensive
Each day that your company is shut down costs you money. Many small businesses in Houston never recovered after Hurricane Harvey. They had to close their doors. They learned the hard way how important disaster recovery is, but you don't have to.
Look for experts in cloud disaster recovery who will get to know your business and develop a unique plan that addresses all the areas that are important to your business, from applications to servers. Make sure they have a good track record and can deliver on their promises. Working with a proactive IT services provider can ensure that your company survives no matter what.